Wedding Ceremonies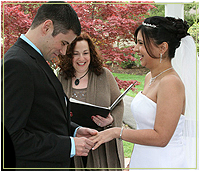 Every couple has a story to tell...from their first meeting and shared experiences to favorite pastimes and family traditions—old and new. As your Celebrant, it is my mission to unravel this love story and present it in a memorable wedding ceremony that celebrates you as a couple. Each ceremony is custom-designed because it is inspired by your love and commitment to each other.
Through personal meetings and creative activities, we together learn what is truly essential to you as a couple. I am then able to craft a one-of-a-kind ceremony that uniquely honors the union between you and your partner. Whatever type of ceremony you choose—non-denominational, spiritual, religious, interfaith or civil—your ceremony will be remembered by you and your guests for a lifetime.
You will have full approval of all ceremonial scripts and rituals. This is your day—I am simply your guide to obtaining your dream. Before the big day, we will work closely together to fine tune all aspects of the ceremony. During this time, I make myself available through unlimited email contact and phone conversations.
All beliefs, religions and traditions are honored and respected. We can incorporate any meaningful traditions in your ceremony including candle lightings, special readings and honoring children or other family members. I am open to all ideas and celebrations for your special day.
A wedding is a momentous milestone celebrating your love and commitment and this ceremony will honor the beginning of your life together.