About April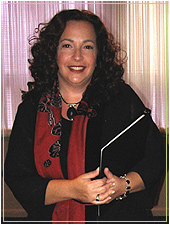 Bringing passion, dedication and enthusiasm to my work as a Celebrant, I craft memorable ceremonies—weddings, civil unions, commitment ceremonies, baby welcomings, vow renewals and end-of-life tributes—that individually reflect and celebrate the people involved. Working closely with you, I will design a ceremony that distinctively expresses your personal vision for that day.
For 26 years, I lived in New York City and worked as a Producer for a large entertainment company. I left my single days behind when I married and moved to New Jersey. During the wedding planning, my fiancée and I passionately believed that our ceremony should celebrate our uniqueness as a couple—not a 'cookie-cutter' ceremony that could have been about anyone. We wrote our own vows and scripted the ceremonial rituals so both of our faiths and beliefs were represented. This wondrous experience inspired me to become a Celebrant so that I could help others create their own one-of-a-kind ceremony.
I am an Ordained Non-Denominational and Interfaith Minister and a Certified Celebrant; earning my Diploma in Marriage Celebrancy through the Celebrant USA Foundation. Additionally, I am currently attending the One Spirit Interfaith Seminary, in NYC, for my own personal spiritual growth. As a member of the Celebrant USA Foundation faculty, I teach wedding classes; and I perform speaking engagements about having a custom ceremony created for your life event. I also dedicate my time to the Pastoral Care Unit at St. Barnabas Hospital for patients who request counseling. And I help displaced women organize a career wardrobe to get back into the work force with an organization called "Career Closet". You will find that I am fun to work with, extremely joyful about life and follow a personal spiritual path. All beliefs, traditions and religions are honored and respected.
For each ceremony I officiate, I dedicate all of my resources to the couple involved. Each ceremony is a truly unique experience because it is inspired by you. Throughout the planning process, I make myself available through unlimited email contact and phone conversations. I want you to have the wedding you've always dreamed of...a day you will remember forever.